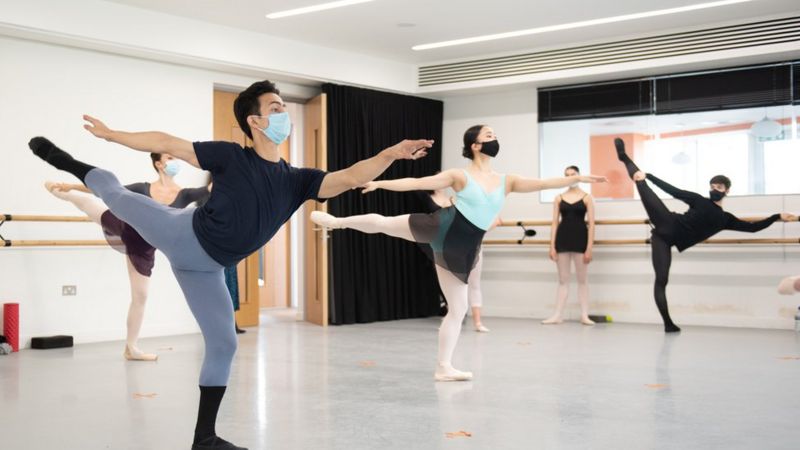 Four years ago, 17-year-old Kamal Singh, was just finishing school and taking his first ballet class. Now 21, the son of a rickshaw driver has become the first Indian dancer to win a place on the English National Ballet School's professional trainee programme.Living in Chelsea - a world away from his family and home in Vikaspuri, Delhi - Kamal spends his days, masked and socially distanced, training in a dance studio in Battersea with just 12 other students. They all share the dream of joining a major international ballet company and making it to the role of principal - of treading in the footsteps of Nureyev and Fonteyn.
For Kamal, none of it would have been possible without the support of his teacher, Argentine dancer Fernando Aguilera - and a dusting of Bollywood star power. "When I heard I had got a place at the English National Ballet school I was so happy, but at the same time, I was a little sad because I knew my father could not pay the fees," recalls Kamal." But my teacher tells me not to worry about the money, to just focus on the ballet - and dance."From the moment Kamal walked into one of his free trial classes at the Imperial Fernando Ballet Company in Delhi, Aguilera knew he had discovered an exceptional talent.
But the teenager could not afford to study ballet. His home was two hours away from the ballet school. His father works two jobs, and all hours, to support his family. Luxuries - like ballet tuition - were not an option. So it fell to Aguilera to convince Kamal's parents - and find a way forward. Over three intense years of training, he provided Kamal with free tuition, a room in his home in Delhi and, ultimately, helped raise the fees that would allow Kamal to travel to London to take up his place at the prestigious English National Ballet school. Fees for the year-long course at the ballet school cost £8,000, and then there are living expenses. It was out of Kamal's reach - until the pair turned to crowdfunding.
Their chosen crowdfunding platform, Ketto, was co-founded by Bollywood actor Kunal Kapoor, who - in turn - used his star power and social network on the young dancer's behalf. It prompted friend and fellow Bollywood star Hrithik Roshan to pledge £3,200 to the fund.In a matter of weeks, Kamal's fund had reached £18,000. Today, almost £21,000 has been donated. And the money is still coming in. "I have received a lot of support from the Indian community," says Kamal. "My maestro has a lot of new students who want to study ballet in India, after seeing my news. They really got inspired.
xo auto
"I am hoping with my achievements, more people in India will chose ballet as a career."
Until now, international Indian ballet stars have been a rarity. "Talent sometimes can be hidden in places where you never think of," says Viviana Durante, a former principal dancer with the Royal Ballet and artistic director at the English National Ballet School. She selected Kamal for the programme - based solely on his online application - and has been impressed by his focus and versatility in class. "Indian dancing is actually quite close to classical ballet - in the way they express themselves with their hands, and their upper body and their arms," she observes. "It's up to us to make ballet more available to other cultures, to educate them and embrace them into our world.
"You need dancers who bring their own stories, their own culture - it makes it exciting."Dance is a language that we all speak. Money should not come into it."
Bollywood inspiration Kamal describes his first glimpse of ballet - less than five years ago - as "a turning point". "Right from the beginning, I always wanted to do something different," says Kamal. "I wanted to dance, but my parents were not taking me seriously. "Then, four years ago, I saw the Bollywood movie ABCD (Any Body Can Dance) and I saw ballet for the first time. It was a turning point."
The young Kamal marvelled at "boys lifting girls with one hand and catching them... the jumping, the turning, the en pointe". "Ballet requires you to work every muscle. It requires strength and stamina. Every day you have to work out. Every day you have to practise. "In my mind, there is no comparison to ballet."It's been a month since Kamal arrived in London and the misty November nights are drawing in. His rigorous training follows a strict schedule, interrupted only by long walks around the capital, trips to the shops to seek out his favourite Indian foods and catching up with his family on WhatsApp. He lives alone, but insists he is not lonely.
"Ballet is not for everybody. It's for those who are smart - physically - but most of all, mentally. Anybody can learn the techniques. But often it's about keeping your head - and positivity." Durante, who teaches Kamal, agrees: "You train the dancer, but you're actually training the person - you are helping the person to grow and to be the best of themselves. "The stakes are high and you have to do your best to sta